Return to Kansas City River Bridges Main Page
Broadway (Hwy 169) Missouri River Bridge in Kansas City, Missouri
The south end of the Broadway Bridge is near downtown Kansas City and the River Market area. On the north side of the bridge freeway-like exits and entrances connect Hwy 169 with the downtown airport. There are no other entrances or exits from Hwy 169 for approximately two miles north of the bridge.

The bridge itself has approximately 18-inch wide pedestrian access sidewalks on each side and in the middle. These are apparently intended for emergency use and maintenance access but are clearly inadequate for safe everyday use.

The sidewalks terminate at the north end of the bridge and do not interconnect with any possible destination at this end of the bridge. Hwy 169 continues northward but it is "walled in" with only occasional stretches of shoulder or open space where pedestrians could even potentially walk.

On the bridge itself, the roadway on consists of four 12-foot lanes with no shoulder. Bicyclists using this bridge would be required to take the right-hand lane for approximately a 2-mile stretch on the bridge itself and on the north approach.

Since the bridge serves downtown Kansas City, Missouri, traffic is typically heavy and travels at 50-60 MPH.
Broadway Bridge--Approach & Bridge Northbound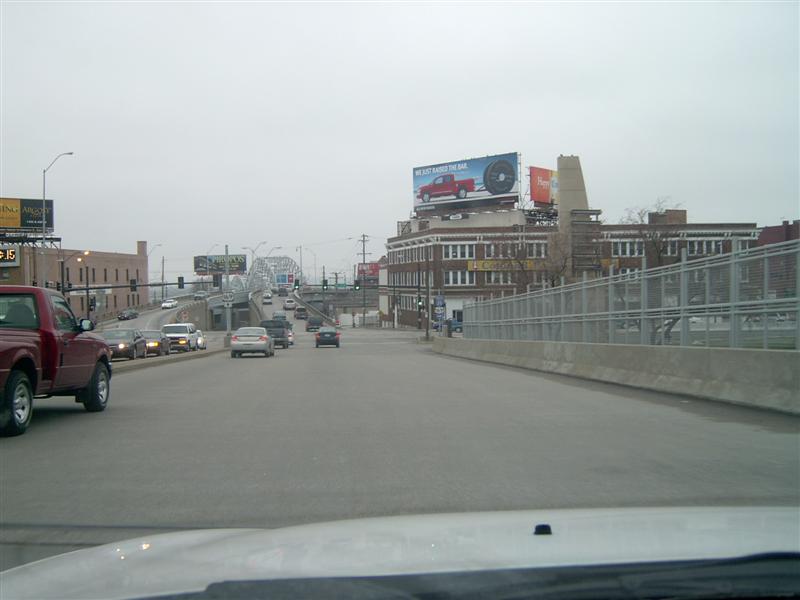 BroadwayNorthboundApproach1.JPG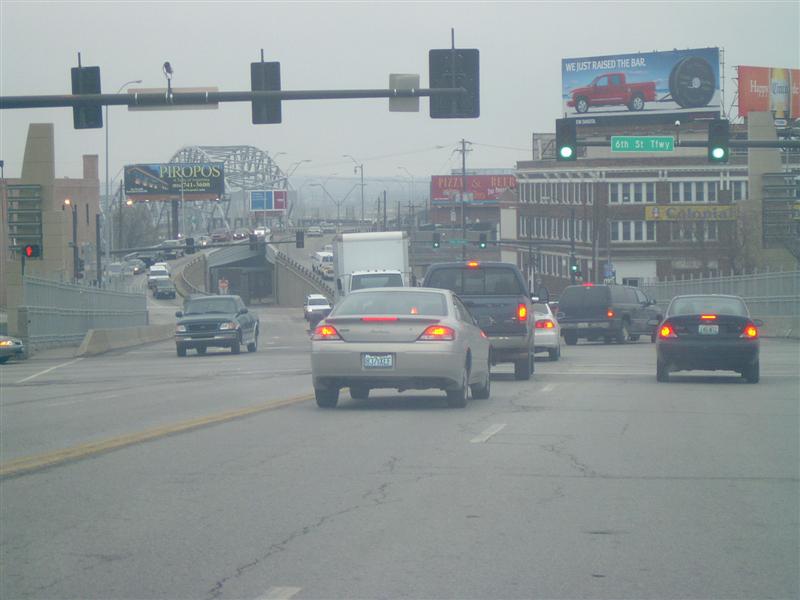 BroadwayNorthboundApproach2.JPG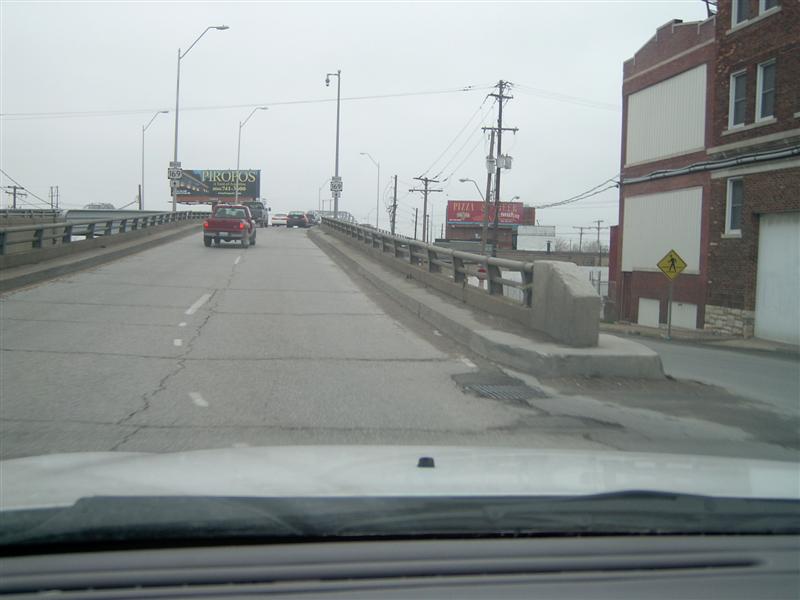 BroadwayNorthbound1.JPG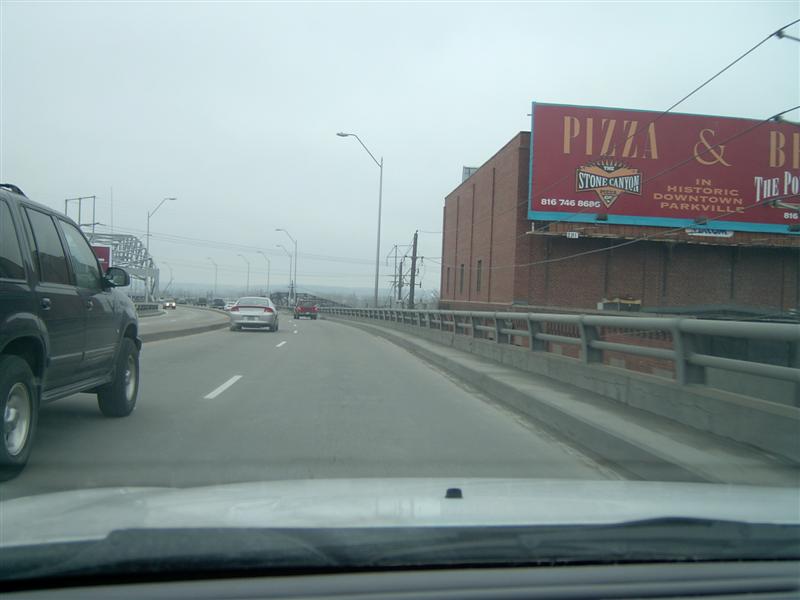 BroadwayNorthbound2.JPG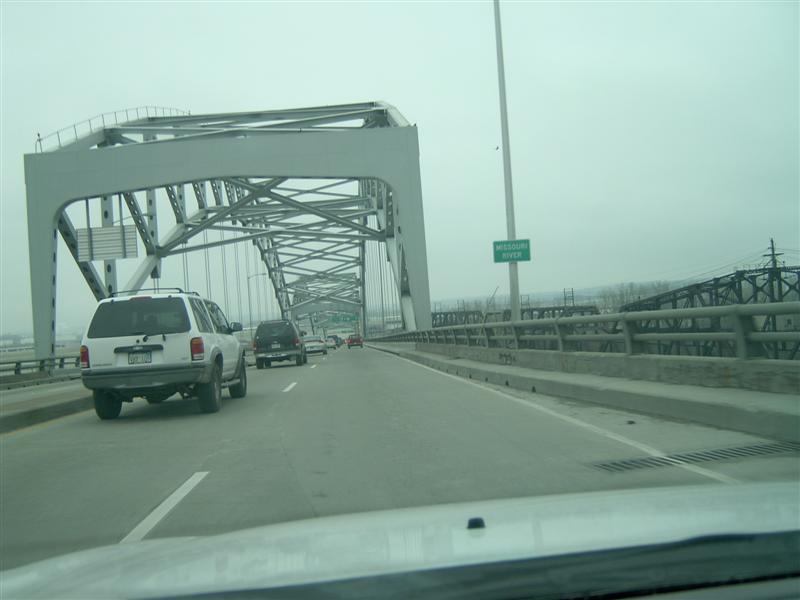 BroadwayNorthbound3.JPG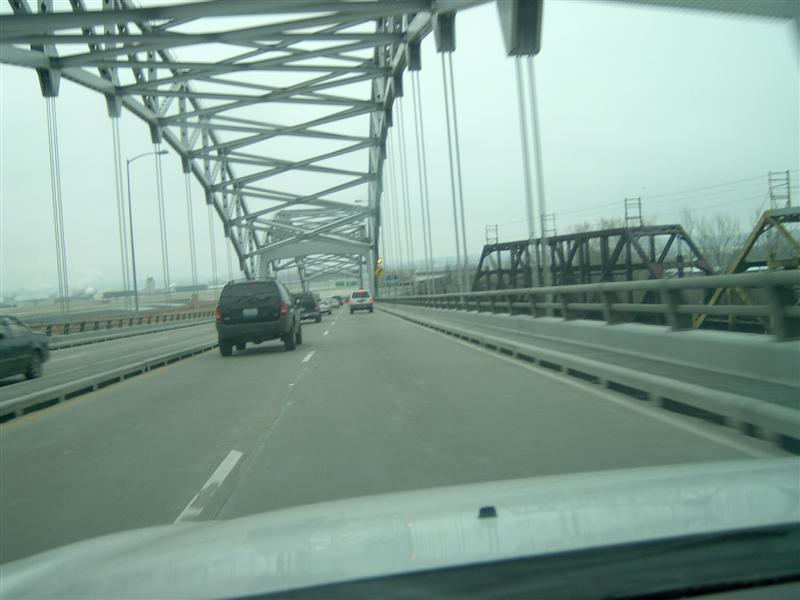 BroadwayNorthbound4.JPG
After the bridge, the Downtown Airport is to the left and a very large railroad yard to the right. The roadway is narrow and tunnel-like: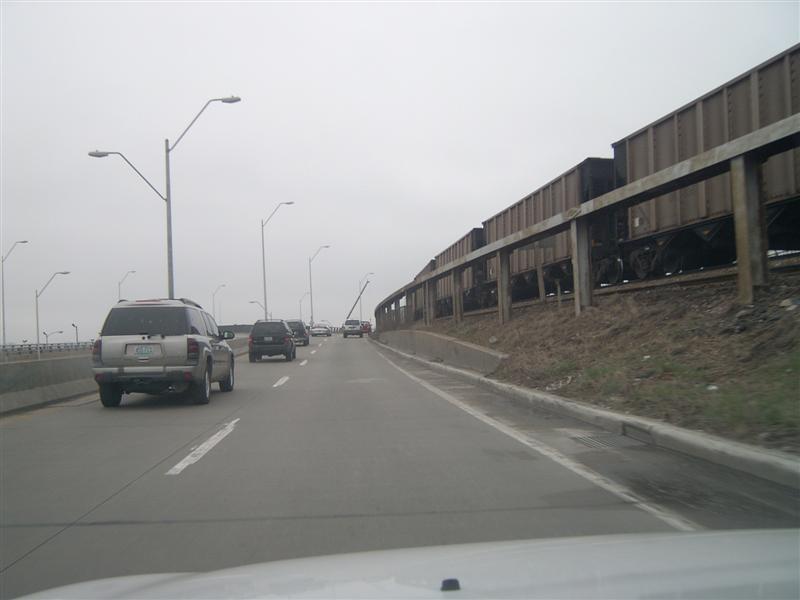 BroadwayNorthbound5.JPG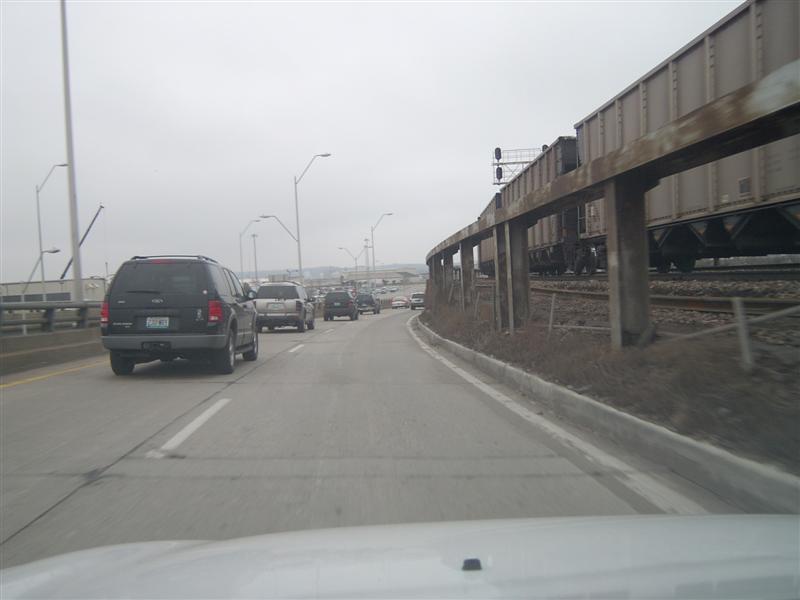 BroadwayNorthbound6.JPG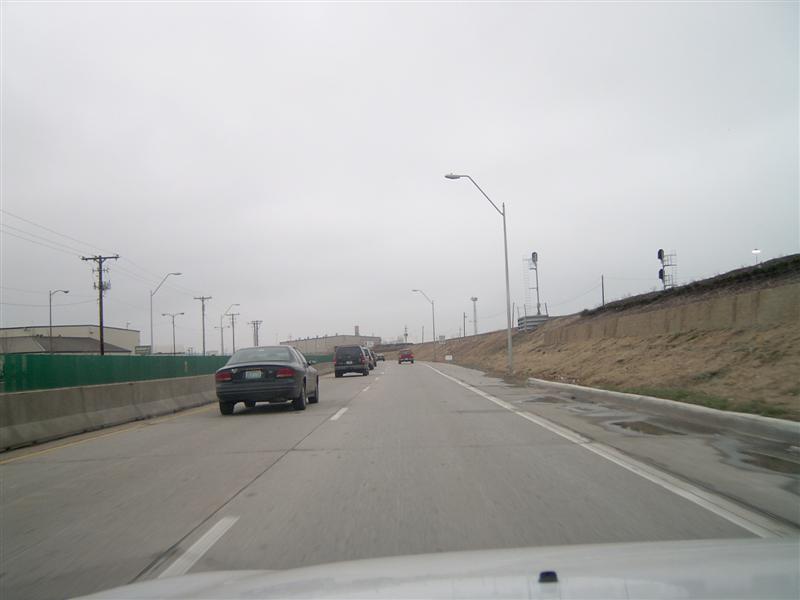 BroadwayNorthbound7.JPG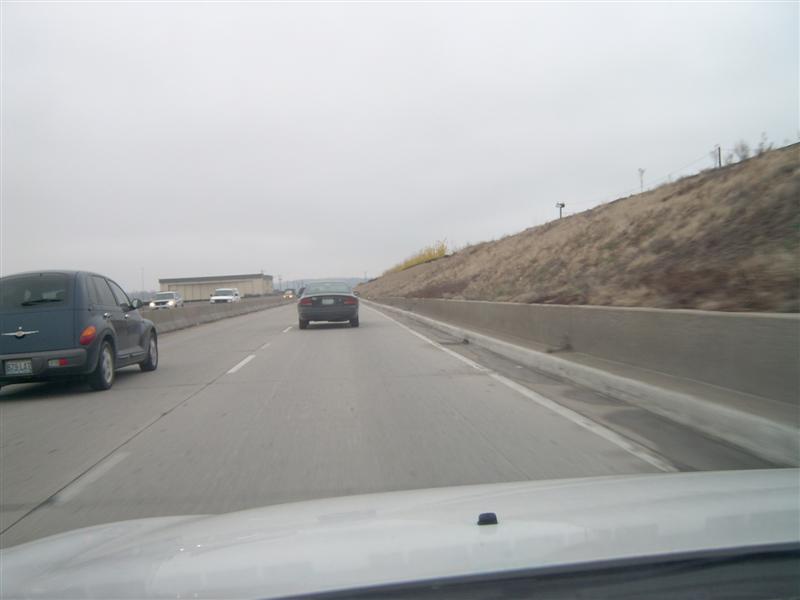 BroadwayNorthbound8.JPG
---
Broadway Bridge (Hwy 169)--Approach & Bridge Southbound
This photo was taken at the first Hwy 169 interchange north of the Downtown Airport. The south approach to the bridge is in downtown KCMO, that is, near the group of skyscrapers in the background of this photo.

At least 75% of Hwy 169 between the point this photo was taken and downtown--about three miles--is completely impassible for bicyclists and pedestrians. Aside from the Downtown Airport, there are no entrances or exits from Hwy 169, or potential destinations, between the spot this photo was taken and downtown KCMO: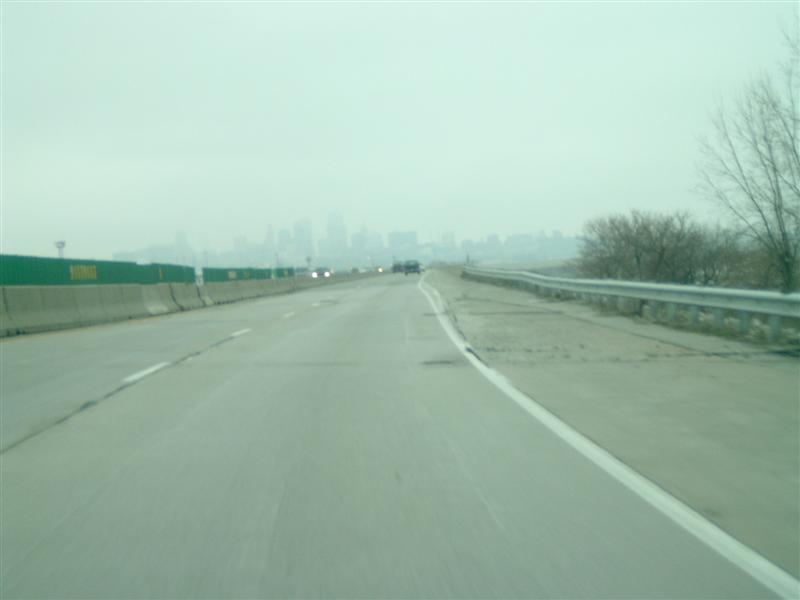 BroadwaySouthbound1.JPG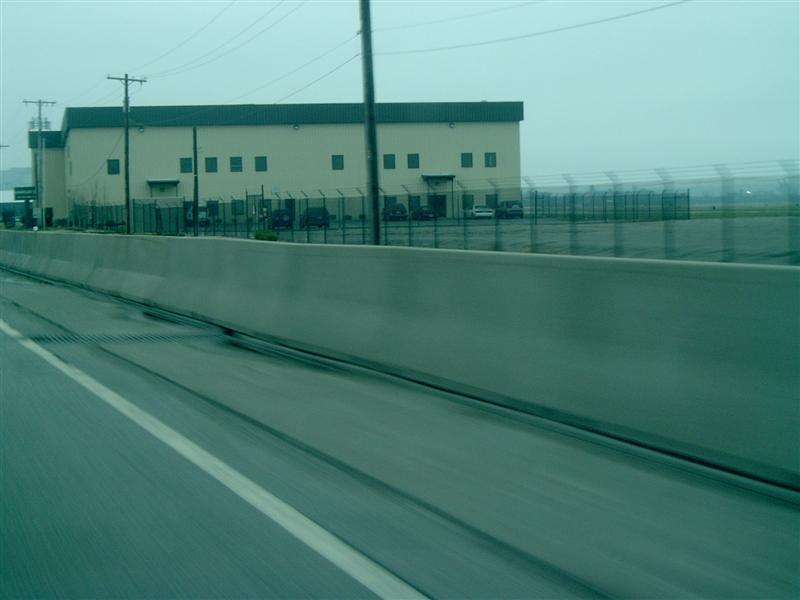 BroadwaySouthbound2.JPG

BroadwaySouthbound3.JPG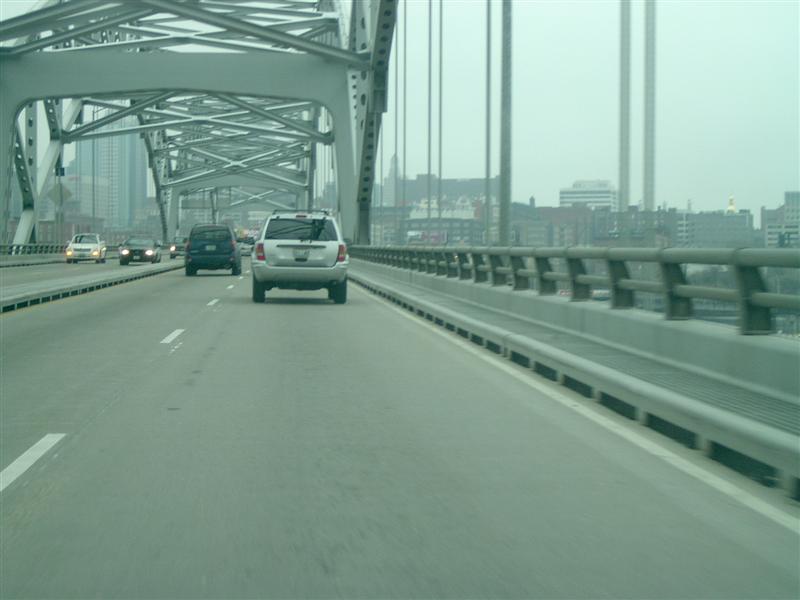 BroadwaySouthbound4.JPG